X-Point envisions the automotive design process to go beyond styling, leveraging contextual research and synthesis to design rich interactions and experiences for future mobility scenarios.

What is the car design process today?
Car design centers users around the Hip point (H-Point), an imaginary physiological parameter, centered over the functional usage of the vehicle rather than holistic user experience. I make the argument that it is an artefact of machine-led human factors that in a lot of ways controls our behavior.

From the perspective of a design process, the car design process lacks integrating (and most times conducting) in-depth contextual research to do design exploration off of since the product development cycle is typically one of small evolutions rather than complete re-thinking.

<atypical>

User Experience Research

1. Activity Theory as a model of understand interaction between a subject and object
2, Experience Sampling (a.k.a Diary studies)
And so, I
combined these two systems
by designing a questionnaire based on the key elements of Activity Theory to see what sort of data can I collect.
I invited
9 participants who commuted to their workplace.
Participants were not restricted to a specific mobility mode so as to capture differences (if any) in the participant's real-time experience and interactions.



I then called up each participant during their commutes (twice a day and for up to a week) and went through the questionnaire, capturing their experiences in real-time.
What emerged was not just experiential desires but the understanding of how Motives and Forces were guiding participants' decisions for their interactions.

Experiences are the result of our activities and hence the

effects of motives and forces

on the interactions and activities is essential to analyze if we want to design meaningful experiences.
Due to the large set of complex data that was collected, I built a visualization tool using Nodebox Live to help myself understand the relevant motives and forces for the reported activities.
This would also serve as a dataset for the designers I would eventually recruit to design experiences based on these inputs. An interactive map of the data is available here.

What sort of outcomes can one expect using data like this?

To set the scene, I framed the brief to be from a mobility service called

COMMYOUTE

, that aims to provide rich commute experiences.

I recruited five designers from different disciplines and backgrounds
(car designers, transportation designers, environment designers and industrial designers)
to use the above research and context to think of meaningful mobility experiences. The ideas were not looking just the physicality of the vessel but also how it intelligently understands the goals of different experiences and activities.
We worked together for a design sprint and some of the outcomes are shared below.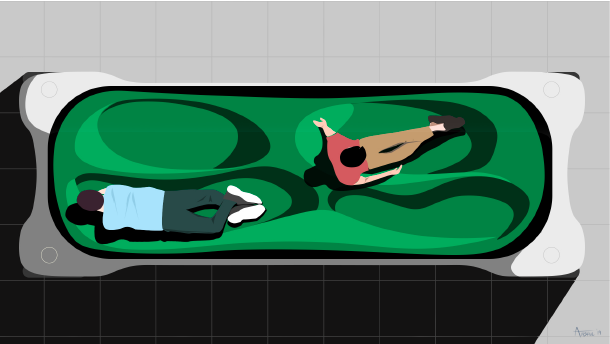 So what's next? How would the language of motives and forces evolve to be part of a design process?

The validity of Experience Sampling and Activity Theory in the mobility experience design domain led me to ideate on a cyclical design process.

As we evolve our understanding of the world we live in, and our interactions in it, why should our designed systems have a static understanding of us (a.k.a dumb)?
Can smart vehicles learn about our experiences and interactions in a way the above study was setup?
Will they still be considered vehicles or should they be

considered as

something else?
How do designers work with an

ever evolving set of data

?

How does the mind of a smart vessel

learn from the user

?
Here's a sneak peek into what that might look like: