I envision the automotive design process to

go beyond styling

wrapped around boilerplate mechanical engineering, by leveraging

contextual research and synthesis

to design

rich interactions and experiences

for a future beyond self-driving cars but rather

truly autonomous vessels

.
We are fast approaching a mobility paradigm unlike ever before. Limiting ourselves to a historical archetype will hold us back from

unlocking new ideas and methods

.
How are cars designed

today

?
Car design fixes users
(a.k.a occupants)
around the

Hip point (H-Point)

, an imaginary physiological parameter. The H-point is centered around the functional usage of the vehicle rather than the holistic user experience.

It helps make the

math of ergonomics in
driving a car
easy.

I make the argument that it is an artifact of machine-led human factors that in a lot of ways controls our

interactions with and within the technology.
From the perspective of a design process, the car design process lacks integrating (and most times conducting) in-depth contextual research to do design exploration since the product development cycle is typically evolution rather than a complete

re-thinking of the underlying technological stack

.
A User Experience Research Framework
Instead of following the typical automotive product planning process (here's a project I did based on that process), I did a lit review of different research methodologies to find a framework to help me

breakdown interactions and capture experiences:
👍
Activity Theory
is a model to understand the interaction between a subject and an object
👍
Experience Sampling
(a.k.a Diary studies) to record experiences as we move through contexts
And so, I combined them by designing a questionnaire based on the key elements of Activity Theory to see what sort of data I could collect.
I studied 9 participants who commuted to their workplace by calling them during their commutes (2x a day and for 5 days) to capture differences (if any) in their real-time experiences and interactions.
What emerged was not just experiential desires but the understanding of how Motives and Forces were influencing participants' decisions regarding their interactions.

Experiences result from our activities so the effects of motives and forces are what I wanted to decode.
Due to the large set of complex qualitative data that was collected, I built a visualization using Nodebox Live to help myself understand relevant motives and forces for reported activities.
What sort of outcomes can one expect using data like this?

The visualization would be provided to designers. I recruited students at ArtCenter College of Design to design experiences based on what they saw from the experiential data. An interactive map of the data is available here.
To set the scene, I framed the brief to be from a mobility service called COMMYOUTE, which envisions improving commuting.
The ideas were

not just looking at the physicality of the vessel

but also at how
it
intelligently understands the passengers' goals of different experiences and activities.

We worked together for a design sprint and some of the outcomes are shared below.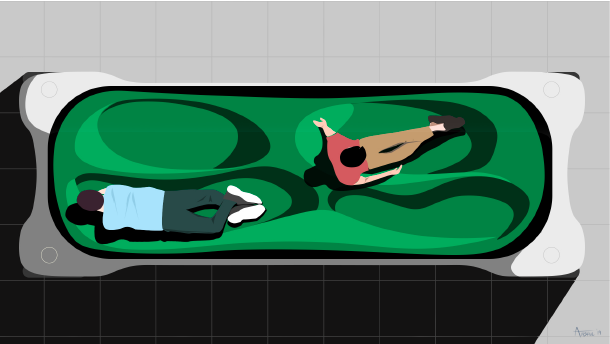 So what's next? How would the language of motives and forces evolve to be part of a design process?
My experiment shows that using Experience Sampling and Activity Theory in the mobility experience design could lead to wildly different outcomes.
🤔As we evolve our understanding of the

Motives and Forces

, why should our systems be based on an understanding of us from the past
(a.k.a dumb)
?
🤔 Can autonomous vehicles

learn about our experiences and interactions

in the above manner?
🤔 Will they

still be considered vehicles

or should they be considered as something else?
🤔 How do designers work with an

ever-evolving set of user data

?
As a thought exercise, this led me to ideate a cyclical design process that takes into account enabling technologies, still very nascent, but could help bring to life the above combination of frameworks.
Here's a sneak peek into what that could look like: